The District is full of excitement this month with fun activities for the whole family. Whether you need ideas for the 4th of July, activities for keeping the kids from going stir-crazy or a relaxing time for yourself.
Enjoy 4th of July in CITYCENTRE with fireworks show and live music. Grab to go from the many restaurants surrounding the plaza such as Cyclone Anaya's, Daily Gather, Bella Green and Yardhouse. Feel like enjoying a sweet treat during the fireworks? Stop by Jeni's Splendid Ice Creams and have a scoop of powdered jelly donut ice cream or enjoy a yummy macaron from Sweet. Be sure to arrive early as this will be a full event. Parking will be $10 starting at 4 pm. For more info, click here.
If you're looking to squeeze a quick workout in prior to the fireworks show, join the CITYCENTRE running club in front of Lululemon at 6 pm for a 3.5-mile run. Enjoy a social hour afterwards at a local CITYCENTRE restaurant. Follow their IG @citycentrerunningclub for more info!
Get ready to save lives this month! July 7th the Gulf Coast Regional Blood center will have their blood drive truck outside Anthropologie in CITYCENTRE from 1:30 pm to 5:30 pm. Please remember how important it is to donate blood, patients will forever be grateful for your contribution, click here to RSVP. If you're unable to donate July 7th, Memorial City Mall will have the Gulf Coast Regional blood truck at the south parking lot by the food court entrance on July 15th from 3 pm to 7 pm. To make an appointment, click here.
Looking for a deep stretch? Join Lululemon's full moon yoga series hosted every month in the plaza at CITYCENTRE. This month's session will be July 13th from 7 pm to 8:30 pm. Enjoy the evening breeze and relax those muscles.
Need new ideas for keeping the kiddos occupied? Bring them out to parachute play time at the plaza at CITYCENTRE, July 15th from 10 am to 12 pm. Bring their bathing suit ready, so they can splash around in the sprinklers and beat the heat. Attendance is $5 per child. Click here to RSVP. Want a weekend activity? Come on out to Plaza Palooza in CITYCENTRE for games, music and fun kids' activities on Sunday, July 17th from 1 pm to 3 pm.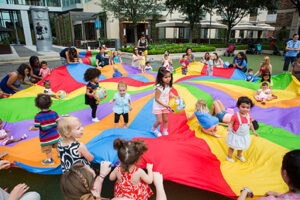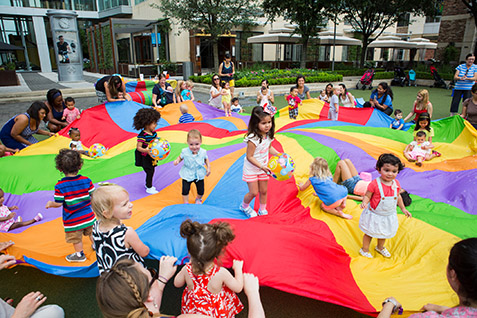 For more District updates, follow us on IG & Facebook @memorialmanagementdistrict.