Making a jack-o-lantern is a great way to show creativity and seasonal spirit in the fall. In the Memorial District, find the perfect pumpkin and the supplies to make this decoration, and add Halloween flair to your home for the spooky season.
First, decide how your jack-o-lantern will look. Will it be cute, funny, or frightening? A traditional jack-o-lantern has triangle eyes and a silly smile or scary grin with teeth that are big and goofy or sharp and spooky. However, there are no rules. Make the jack-o-lantern that is right for you.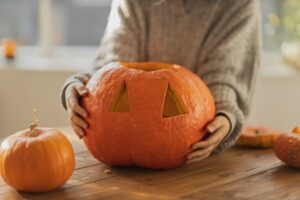 Keep the design ideas in mind as you shop Memorial District retailers for supplies. For example, plan to carve standard triangle eyes and a smile with teeth, or jazz up your jack-o-lantern with stencils at craft or stationery stores in the community. For example, add shooting stars and crescent moons with stencils from Joann.
Next, find pumpkins at HEB Bunker Hill or Randalls on Memorial Drive. You may even see pumpkins for sale at the Memorial City Fall Fest and Market on October 17, 2021. This event, which runs from 10 a.m. to 3 p.m., will have food trucks, hayrides, live music, food, and drinks. Plus, there will be a pumpkin patch the benefits Epilepsy Foundation Texas. Have fun and keep an eye out for the perfect pumpkin to become your jack-o-lantern.
Look for a pumpkin with a smooth side that will make for a good canvas. Then, at home, wash the pumpkin and make sure there is no dirt or debris. Dry it with an old towel.
Although you could use stencils and markers to draw lines directly on the pumpkin, a better solution might be to draw your design on a piece of paper, tape the paper to the pumpkin, and poke holes along the lines of your drawing with a strong needle or a screwdriver. Then, use a carving knife to cut a round hole at the top of the pumpkin, which will create a lid. Removing the lid will give you access to the insides, which you can scoop out with a serrated spoon. All of these supplies come ready in the Masters Collection Pumpkin Decorating Carving Kit at Home Depot on Lumpkin Road. Just make sure an adult handles all the carving tools and responsibilities. If a child wants to participate, perhaps they can paint a jack-o-lantern face on a pumpkin with paint from Joann.
Finally, add a small lit candle inside your jack-o-lantern. Try a seasonal scented candle like the Heirloom Pumpkin Tin Candle from Francesca's at either Memorial City Mall or Town and Country Village to take the October spirit up a notch.
If all this sounds like too much work and you would prefer to buy a jack-o-lantern to have from season to season, check out the black metal jack-o-lanterns from Pottery Barn at 12850 Memorial Drive. They're cute and spooky at the same time, which is pretty much what Halloween is all about after all.
We hope you can carve out a little time for yourself to have some gourd old-fashioned fun!