Face masks are this year's greatest accessory, and Memorial District retailers are on top of the trend. Our businesses have functional, safe, and stylish masks to protect our community.
This year, Memorial Tailor jumped into mask making. This family-owned-and-operated business has masks with seasonal designs, sports team graphics, and more. They even make masks for special occasions, such as pageants and weddings.
Similarly, Marlo Miller Boutique is at the front of the mask movement. When the pandemic hit, the shop worked hard to get masks to the community. Now, it offers unisex masks, embroidered masks, face shields, and mask accessories like mask chains to keep your mask within reach.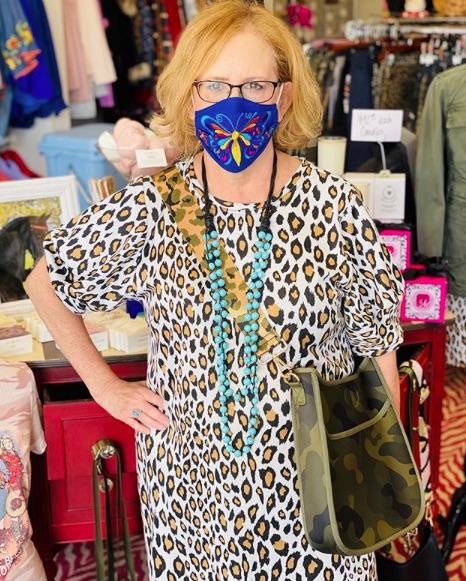 🛍Face Shields are in stock! Order OnlineThank you for supporting small🛍www.MarloMillerBoutique.comGreat Day HoustonMemorial City

Posted by Marlo Miller Boutique on Wednesday, July 15, 2020
Recently, researchers tested various masks. The results suggested that surgical N95 masks were best at catching respiratory droplets. However, some non-surgical worked well. Non-surgical masks include disposable KN95 masks and reusable all-purpose masks with filters and layers. Find these styles at Lowe's Home Improvement at Bunker Hill, where you can also get children's masks with designs like hearts, dinosaurs, and rocket ships.
Cotton On at Memorial City has cotton masks with adjustable elastic straps. These masks filter 90% of general pathogens and pollution in the air, and the proceeds support global healthcare initiatives and youth education initiatives.
Many other Memorial City, CityCentre and Town and Country Village stores, such as Aeropostale, Anything Bling and J. Crew have fashion-forward masks.
Aerie and American Eagle Outfitters at Memorial City have unisex masks, some of which you can pair with matching scrunchies.
Get triple-layer, non-medical grade masks from Old Navy in Memorial City or the Gap or Banana Republic stores at Memorial City or Town and Country Village. Choose from neutral colors and smart designs to complement your work-from-home outfit.
Coach at Memorial City has chic masks, and 100% of the net profit from the sale of these items goes to the organization Feeding America, which provides meals across the nation. You can also find elegant mask chains to dress up your new-normal look.
Anthropologie at CityCentre offers inventive masks, such as tie-back masks with braided ties. The manufacturing process follows environmentally friendly, fair-trade guidelines.
Joann Fabrics near Village Plaza has everything you need to make masks whether you prefer funky designs or monochromatic looks. Get textiles, needles, thread, sewing machines, and more. Are your ears sore from masks bands? Follow YouTube tutorials to make tie-back masks or headband masks to save your ears.
Not all masks work well. Researchers found that some fleece and polyester neck gaiters performed worse than the no-mask control group. They may break respiratory droplets into smaller sizes and help them remain in the air, so other masks may be better.
Remember, masks are not a perfect defense. Wear masks with layers, and wear masks at home if you are ill or caring for someone sick. Wash your hands with soap and water, use hand sanitizer, and practice social distancing.