Houston TranStar's It's Only a White Line campaign helps avert accidents when motorists and pedestrians become stuck on local freeways. Furthermore, the campaign wants to prevent tragedies and help drivers move vehicles off the road to follow Texas's Move Over or Slow Down law.
"We must also educate people about the dangers of getting out of the car, changing a tire or trying to cross the freeway on foot," said Dinah Massie, Executive Director of Houston TranStar. Reportedly, 75 percent of stranded motorists who died in Harris County over a 10-year timespan were standing by their vehicles. Moreover, the risk of injury or death in a secondary crash increases every minute that a person is not in a safe place on the road.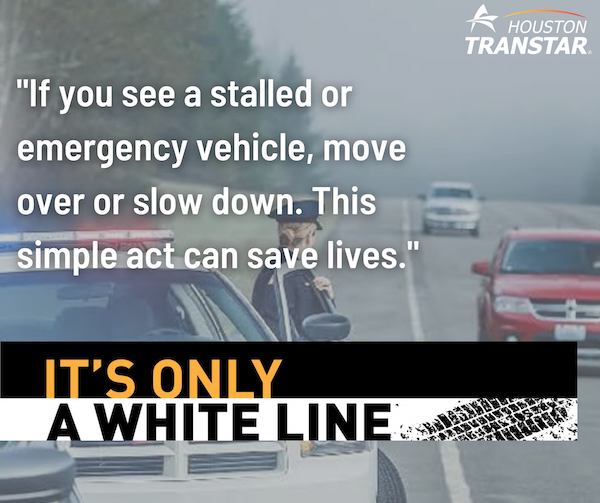 The It's Only a White Line initiative advises drivers to take steps when a problem arises. First, take the closest exit, even if it breaks the tire rim. Alternatively, pull as far off the road as possible. When you're stranded, remain in the vehicle. Stay buckled up, turn on hazard lights, call for help and move your seat as far back as possible. In the Tow and Go service area, use TranStar's free mobile app to call for a no-cost tow. The Tow and Go quick clearance program provides no-cost towing up to one mile for vehicles that break down from mechanical issues.
"We have representatives from incident management, law enforcement, transportation, medical research, hospital trauma and auto insurance who are providing incredible insight and guidance for preventing freeway deaths," said Massie. TranStar recruited a cross-section of experts with a distinct relevance to this issue to serve on an It's Only a White Line Leadership Council.
The campaign features helpful information in both English and Spanish. For example, check out these two graphics from the campaign.


It's Only a White Line wants to clear up misconceptions about freeway accidents as well. For example, motorists sometimes think moving out of harm's way after a crash will cause them to lose insurance coverage, but this is false.
"Your insurance carrier is first and foremost concerned with your safety," said David Wuthrich, Executive Director of the Independent Insurance Agents of Houston and member of the It's Only a White Line Leadership Council. "In the past, documenting a crash for insurance meant waiting for law enforcement at the scene, but getting out of danger is the first step. Taking pictures of the crash from within the safety of your vehicle, including photos of the other vehicle's license plate, is the next important step. But getting off the freeway is the name of the game."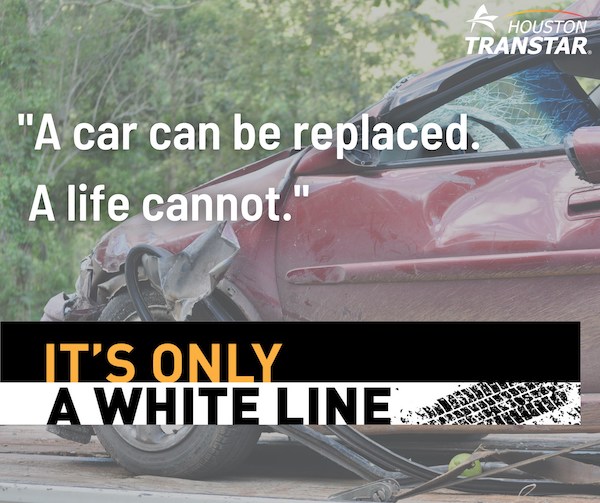 Travel with knowledge from TranStar, including information on It's Only a White Line at HoustonTranstar.org. Download TranStar's Mobile App at the Google Play or Apple App store to access travel times, roadway conditions, and Tow and GoTM service.