Thanksgiving is always the perfect excuse to overload on desserts. Besides the turkey dinners, dessert is the next best thing to look forward to. Enjoy pies, cookies, and cakes galore, and remember that the Memorial District has the most amazing desserts to offer this holiday season.
If you want it all, Three Brothers Bakery is your one-stop-shop for cookies, cakes, pies, cupcakes, bakery treats, and more. They offer four different flavors of pecan pie. The chocolate-chip bourbon pecan pie is divine. Are you looking to give pies as gifts? Three Brothers Bakery has the option of wooden boxes that can be engraved. All of their pies are under $30, perfect for buying more than one.
Sweet Houston at CITYCENTRE offers 15 different cupcake flavors and endless macaron flavors. Nothing says Thanksgiving like a macaron tower in the middle of the dessert table. Feel like having cake? Choose from 13 different flavors, make your layers ombre or have a naked cake (the latest in cake trends). The bakery must receive all cake orders 24 hours in advance, so be sure to order in time.
Leibman's offers exquisite truffles sold individually or in a packaged box, perfect for the chocolate addicts. These truffles come in various flavors, and you can give them away as little Thanksgiving gifts. Leibman's also has various specialty candy that comes in its own fabulous packaging, including black lava sea salt caramels.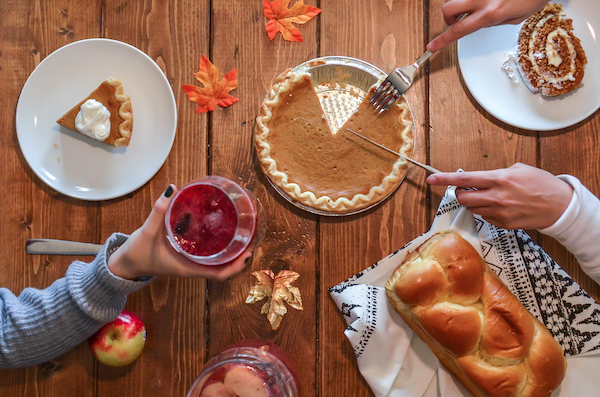 Lolli & Pops at Memorial City Mall is a one-stop-shop for all the sweets you crave. Mix and match chocolates and candies in their $13 jars, which you can refill for only $5. There are different sizes of jars and tins, too. Also, look for prefilled tins, which are perfect for gifts. Stop and check them out.
Want to DIY your pie? Pillsbury has a collection of easy pie recipes that you can choose from, especially when you cannot decide which pie to have. Pick from strawberry pie, lemon meringue, chocolate silk, and the classic apple pie. Is cake more up your alley? Then, check out these 36 mini Thanksgiving desserts from Delish for all of your holiday indulgences on Turkey Day. These will give you the ultimate Thanksgiving dessert table, and you can find all of the ingredients at the local HEB or Randalls here in the Memorial District.
Happy eating, and happy Thanksgiving!