When I was younger, the Gulf Coast Regional Blood Drive bus visited my school almost every year. I wanted to donate but never could because I did not meet the weight requirement. Fast-forward ten years, healthy and ready to donate, I stood at the Blood Drive bus outside Memorial City Mall. I was excited to donate, and I knew I could make a difference in someone else's life.
Inside the spacious bus, I met Octavia. She was one of the nurses in charge of making sure I had answered the questionnaire. Octavia was informative and sweet. I told her it was my first time, and I felt like a little kid as I spoke. The process before donating blood is educational. To make sure your blood is usable, the team asks many questions about your health. Octavia pricked my middle finger and took a small amount of blood to test it for iron levels. My level came out normal for my age and weight. As a gift for donating, you receive socks or a T-shirt. I asked Octavia if I would be able to know my blood type. I did not know my blood type, and I had always wondered about it. She informed me that the information would be available by downloading the Digital Donor app and waiting 24 hours for the details to process.
I waited in a small sitting area in the back of the bus. Donors occupied all four areas. Some donors sat for longer than others. I learned that you could donate more than a pint if you wanted.
A nurse walked over and checked my left arm for a strong vein when it was my turn. The nurse commented, "Oh, good! You have nice veins."
"It's my first time," I said.
"You don't have to look at the needle if you don't want," she said.
"Actually, I'm rather fond of watching for some reason," I said.
The nurse laughed at my curiosity and said, "I am about to put the needle in."
In length, the needle was half the size of a coffee stirrer and about the same width. I will admit that I panicked when I saw the width.
"Take a deep breath," the nurse said, and in went the needle. I can't say that it wasn't uncomfortable; it was. But it wasn't significantly painful. It was like a hard pinch. The bag was full within five minutes, and then they took a couple of test tubes full of blood to run some tests. The pint-sized bag leveled and then filled to the brim once more.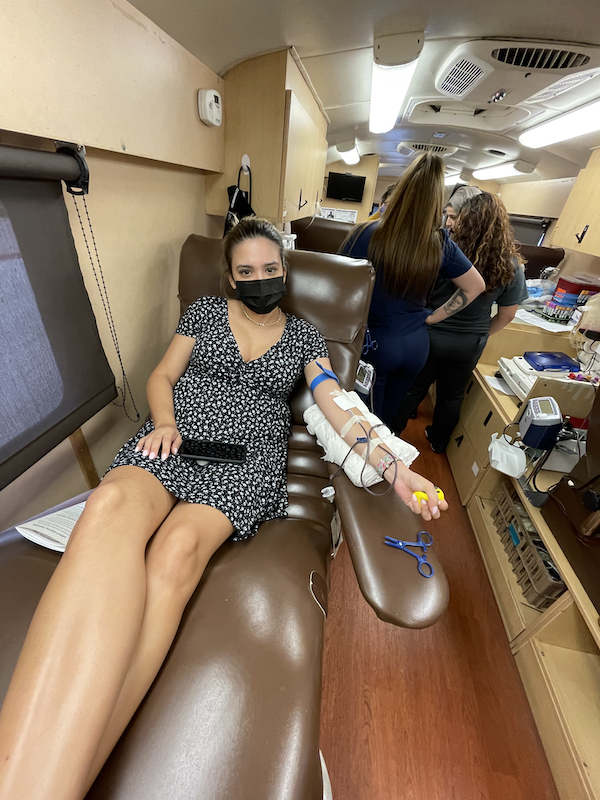 After ten minutes, the nurse walked over and said, "I'm going to take the needle out now. Take deep breaths."
The removal of the needle was more uncomfortable than when it went in. The nurse put gauze and pressure over my vein and proceeded to wrap it in a red-gauze band.
"Okay, you're all set," she said. "If you're not lightheaded, you can leave. Otherwise you can sit for 15 minutes. Just make sure to get up slowly when you're ready."
"I think I'm okay," I said. I got up slowly, and thankfully, no lightheadedness surprised me.
Overall, it was an excellent experience! A blood donation, which takes just 15 minutes, can save three lives! So, I'll be donating every chance I can. Look for upcoming blood drives in the Memorial District, and be sure to check out the Gulf Coast Regional Blood Center's
website
to set up your appointment and donate!