Many Memorial District restaurants are offering curbside pickup and delivery this Easter. That means this year you can bring the holiday meals home, Houston. Here are a handful of eateries ready to make Easter meals extra special.
Brio — 713-973-9610
Have your pick of two Easter Dinner bundle options. Get them either hot and ready to eat or cold and ready to make at your convenience. Preorder these bundles while supplies last by Friday, April 10.
Pork Chop Dinner — This bundle has six pork chops and family portions of mashed potatoes, grilled asparagus, chopped salad, and sourdough bread. $79.99
Lasagna Dinner — This bundle has a family portion of lasagna, chopped salad, and sourdough bread. Finish your meal with six pieces of tiramisu.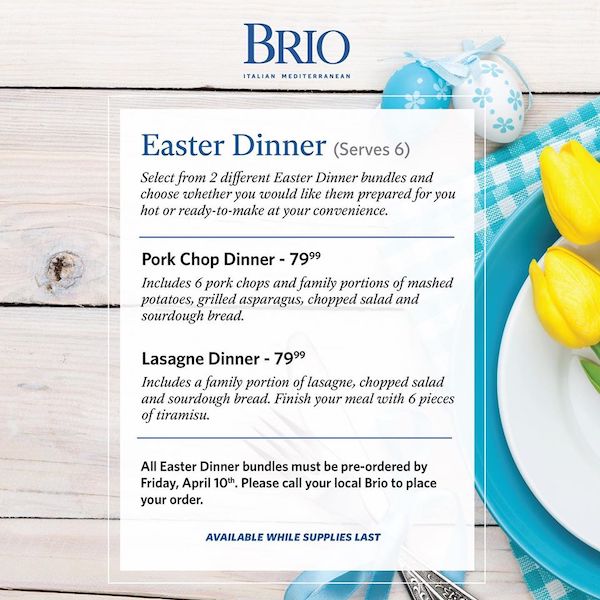 This family-style Easter menu is $95 for a two-person serving or $185 to serve four to six people. It puts the premium Whole Rack of Bone-In Filet on display with sides grilled asparagus and mashed potatoes sides. This three-course menu includes field green salad with Parmesan vinaigrette and French rolls and concludes with apple crostata. Also, add to your meal with delicious shrimp cocktail, lobster mac 'n' cheese, and lobster bisque. Order by April 10.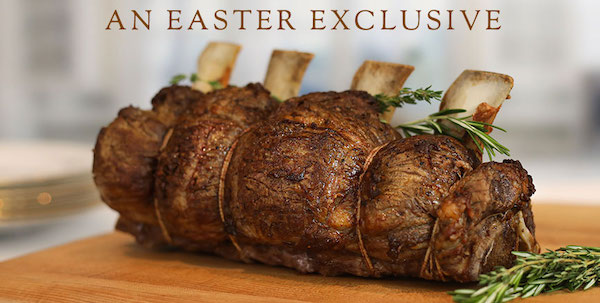 With multiple options, Churrascos has the Easter meal package for you. Serve four to six people with the $89.95 Chateaubriand bundle, which showcases a delicious roasted beef tenderloin. Then, Easter Pack 1 has 6-ounce grilled churrasco steaks, while Easter Pack 2 has 8-ounce grilled churrasco steaks, and prices vary depending on the number of people you'd like to serve. Mix Grill Pack 1 has petite filet, grilled chicken and grilled shrimp, while Mix Grill Pack 2 has roasted salmon, grilled chicken and grilled shrimp. Both Mix Grill Packs serve six people for $129.95. You can also find yummy tres leches and drinks, including margaritas, mimosas, mojitos, and sangria. Churrascos website currently shows the following additional offers as well:
Add any bottle(s) of wine at 50% off from our wine menu to your food order
Add a Mimosa or Sangria Kit at $15.95 each to your food order

Serves about 6-8 drinks
Mimosa Kit: Bottle of Champagne & Orange Juice
Sangria Kit: Bottle of Red Wine & Sangria Mix

Add a Mojito Kit at $31.95 each to your food order
Add a Margarita Kit at $34.95 each to your food order
Also ask us about ordering our Gaucho Grill Kit so that you can enjoy the flavors of Churrascos from your own grill

Celebrate Easter with the Cold-Prepped Easter Bundle by Maggiano's. This $120 kit feeds four to six people and helps you make the meal at home in your own kitchen during the holiday. Just heat it in the oven! This package includes mini meatballs in marinara sauce, Caesar salad, lasagna, four-cheese ravioli, chicken piccato, spaghetti aglio olio, garlic broccoli, tiramisu, and ciabatta rolls.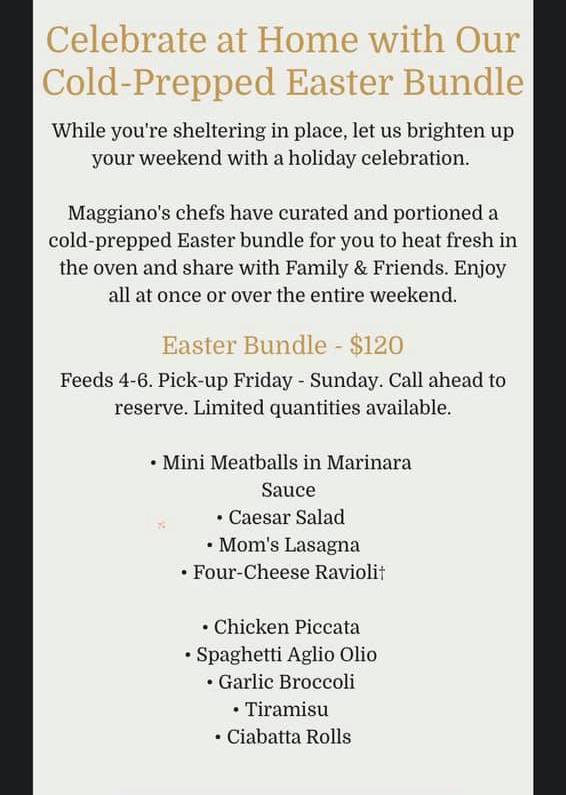 For $39 per person, enjoy a three-course Easter meal that comprises your choice of salad and entrée—including the famous seven-finger-high pork chop—with sides and dessert. Get your meal with curbside pick-up or delivery on Sunday, April 12 from 11 a.m. to 9 p.m.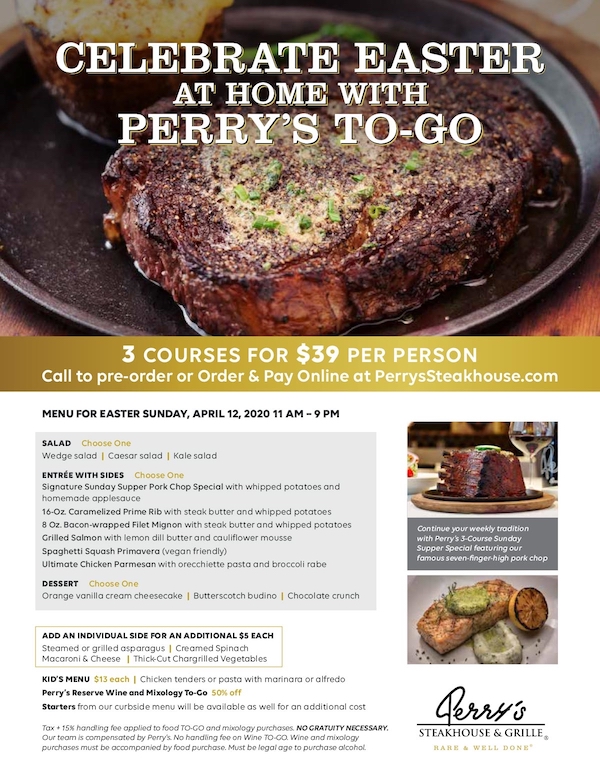 Get everything you need for Easter brunch, including a deviled-egg kit, cathead biscuits, strawberry jam, two pounds of uncooked bacon, two pounds of uncooked sausage, two pounds of honey baked ham, two pounds of butter, and Southern-style breakfast potatoes. Pancake kits with a jar of maple syrup are $7.13. Bloody Mary kits are $30, and gallon mimosas are also available upon request for $15. Order by Wednesday, April 8, for curbside pickup on Friday, Saturday, or Sunday from 11 a.m. to 7:30 p.m.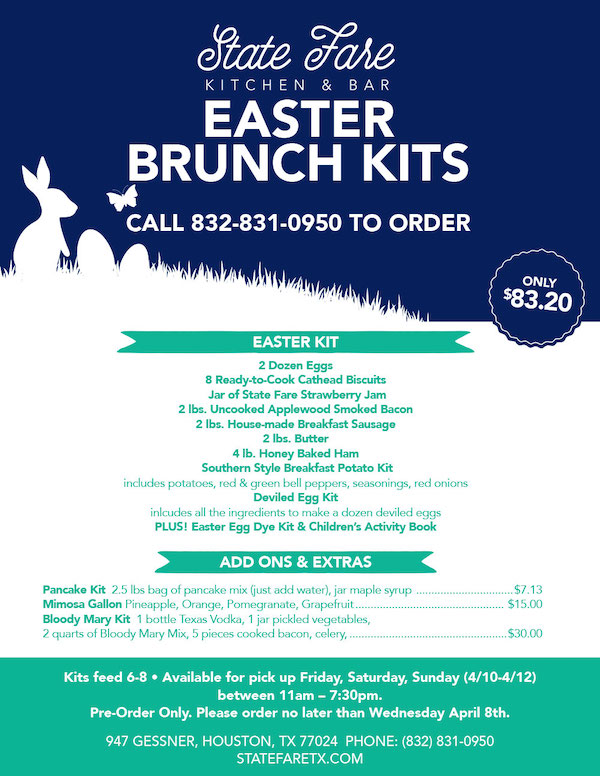 Looking for a culinary selection not on this list? Here is a fantastic run-down of Memorial District eateries available for delivery and takeout. Our full Business Directory is available as well. Simply call your favorite restaurant to ask about ordering options.