Santa Claus is back in town, and he has cheerful experiences that emphasize health, safety, and inclusivity. Visit Santa in person at Memorial City or CITYCENTRE, or in a virtual visit from the comfort of your own home.
There are multiple ways to visit with Santa or get a family photo for the holidays at St. Nick's Park in the Dillard's Court of Memorial City. There are giant illuminated reindeer, a peppermint-scented path, and six-foot candy canes at St. Nick's Park. Take pictures with Santa from fun camera angles, and watch the magical moments with Santa on a large TV monitor outside of St. Nick's Park. Prefer to visit Santa from home? No problem! Zoom video calls are available this year, and children can talk to Santa online.
At St. Nick's Park, choose one of multiple photography session options. Make a reservation before December 16 to receive $3 off your photo package. Then, with each photo package that you purchase at St. Nick's Park, receive free passes to Ice Skate Memorial City and the Memorial City Carousel.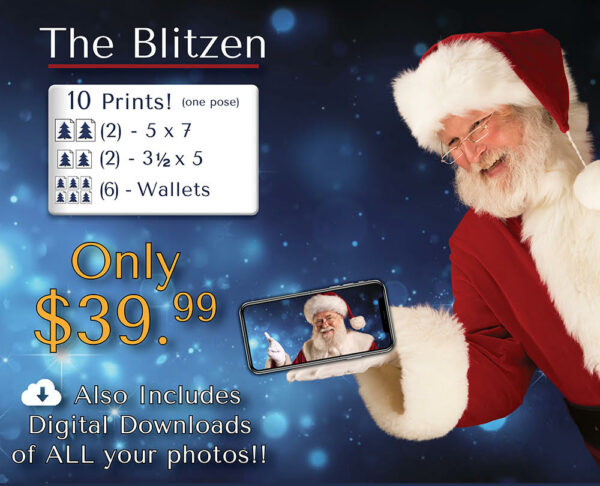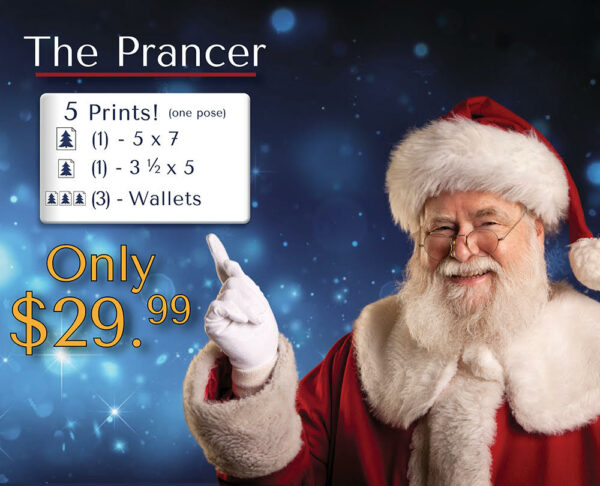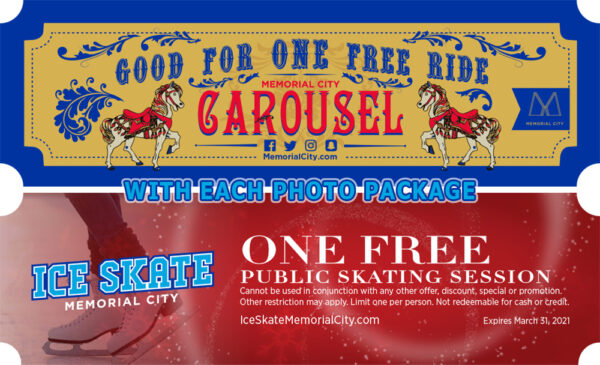 Reservations are a must, as they help the staff create magical, memorable events that comply with health and safety guidelines from the CDC, Harris County, and the City of Houston. Click here to sign up for a spot ahead of time online or make a reservation in person at the Dillard's Court and return when it is your turn to see Santa.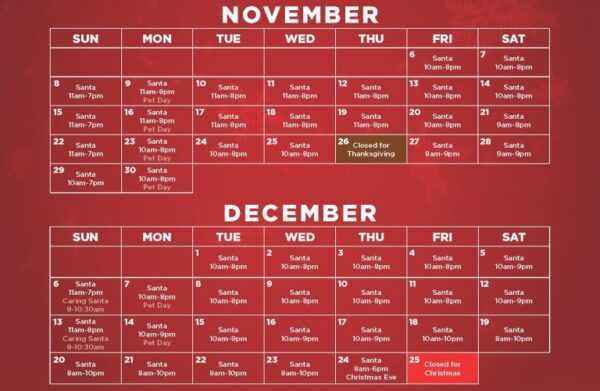 People with pets can share in the joy of having their little ones see Santa from 11 a.m. to 8 p.m. every Monday through December 21. You could even make the experience extra special and pay a visit to PetSmart in the Memorial District near Bunker Hill, where you can find fun holiday outfits and treats for your fur baby before the meet-and-greet experience.
Memorial City also has Caring Santa from 9 a.m. to 10:30 a.m. on December 6 and 13. This sensory-friendly opportunity is an excellent way for children with special needs to have a Santa visit. During Caring Santa, the staff turns down the lights and music to create a peaceful, welcoming environment while the young ones have a photo session with Santa before public admission. Memorial City will provide juice boxes, doughnuts, and coloring sheets for this event, and Santa's reindeer will be in attendance. Click here to sign up, Memorial City partnered with Autism Speaks. This organization raises societal awareness and understanding of autism and helps people with autism and their families.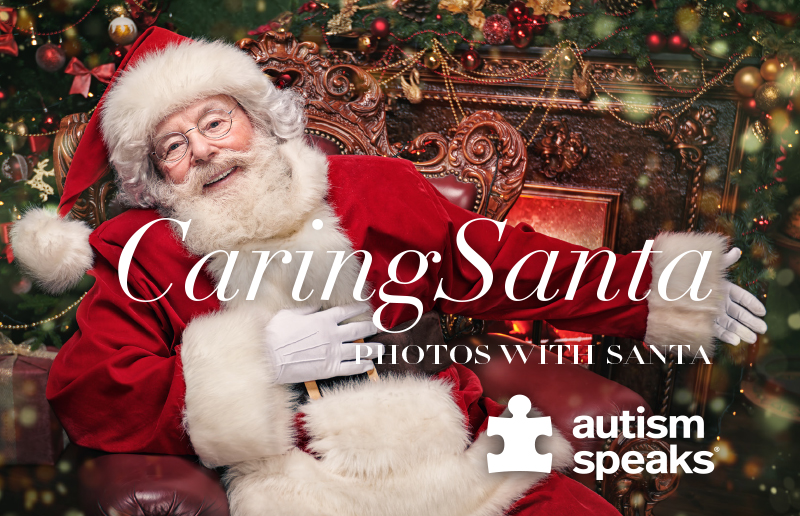 For all of the Santa events at Memorial City, employees and guests must wear masks at all times unless a guest requests to remove a mask temporarily for the photo session. The staff will conduct temperature checks on all employees and guests, and St. Nick's Park will undergo sterilization before and after every visit. Everyone will have access to hand sanitizer. Parents and guardians of Santa's young visitors will be the ones to put their children on the physically distanced set near Santa, and anyone who is not part of the photo will socially distance in an area away from Santa, the photographer, and the other guests. Please note that these safety rules, event times, and experience details are subject to change. Read more about safety here.
Santa Claus will be at CITYCENTRE for Holiday in the Plaza from noon to 5 p.m. on Saturday, November 28. Presented by Sewell Cadillac, this event will begin when Santa himself arrives in a Cadillac. You can help CITYCENTRE fill the Cadillac with donations for the Texas Children's Hospital West Campus. In exchange, you can take a complimentary photograph with Saint Nicholas.
The fun and joy are sure to continue in the coming weeks with additional events and opportunities for holiday enjoyment here in the Memorial District. Stay tuned!