Enjoy Culinary Delights in Celebration of Mardi Gras
This year Mardi Gras, or Fat Tuesday, falls on Tuesday, February 25. Mardi Gras is a day to enjoy lighthearted indulgences before Lent, a time when some Christians observe 40 days of sacrifice. Culturally, Mardi Gras is a day to celebrate life and feel joyful. While people often picture the Mardi Gras celebration in New Orleans, a trip to the Big Easy does not need to be in your travel plans this month. Enjoy the atmosphere and foods of New Orleans in the Memorial District.
The Rouxpour will be hosting a Mardi Gras event from 3 p.m. to 11 p.m. at The Square at Memorial City Mall on Tuesday, February 25. Expect to see a crawfish boil as well as specialty cocktails, beers, and wines. Plus, there will be live music and room to shake your tailfeather on the dancefloor. As they say in New Orleans, "Laissez les bon temps rouler" or "let the good times roll."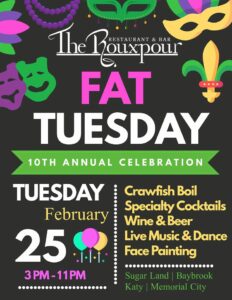 Also at Memorial City, check out the New Orleans-style cuisine available at Pappadeaux. This wonderful eatery offers up fresh seafood and Louisiana-style delights, including crab, flounder, catfish, and even alligator. Plus, it has French Quarter flavors like Gulf oysters, boiled crawfish, and whole lobster. It's a great spot for a Mardi Gras dinner.
In many Latin American countries, Mardi Gras means it's time for Carnaval. In countries like Brazil, Carnaval is a celebratory time when there are massive public festivities over multiple days. There are parades, street parties, and performances. But this exciting time would be nothing without fantastic Latin American foods.
Fortunately, you don't need a ticket to South America. If you're at Memorial City Mall, head on over to Churrascos for delicious Brazilian cuisine. Similarly, you could pay a visit to Texas de Brazil at CityCentre to find incredible Brazilian dishes, and be sure to ask about the Carnaval specials, including the $5 passionfruit caipirinhas. Nearby, Sal y Pimienta at CityCentre brings South American cuisine to Houston with organic, grass-fed Uruguayan beef. All of these places will transport you to South America for a Carnaval-style night of dining.
Last but not least, you're in luck if you're looking to satisfy your Mardi Gras sweet tooth in the Memorial District. Head to Three Brothers Bakery at Memorial City to pick up a King Cake. This style of cake has the three main colors of Mardi Gras: green, purple, and yellow. A small figurine of a baby, which represents the baby Jesus and is called a fève, is tucked away on the cake. Whoever gets the piece of cake with the fève becomes "the king" for the day. But the best tradition associated with the King Cake is, perhaps, enjoying a yummy slice.
So, visit the Memorial District for Mardi Gras, and we'll take you on a Fat Tuesday culinary journey.