The Memorial District's newest casual bar celebrates the cowboy surfer culture through drinks, eats, live music, and art. At 827 Frostwood Drive near Memorial City, Cowboy Surfer takes inspiration from North America's fleeting cowboy surfer culture, which people saw in the '60s in places where ranch life met coastal life, like the Texas Gulf Coast, Southern California, Oregon, and the Florida panhandle. Cowboy and surfer-inspired beverages, Texas comfort food, and live music from singers and songwriters near and far are on the menu of the 1,850 square-foot space full of  thematic photographs, art, and memorabilia from local and nationally-recognized artists. The bar is co-owned and operated by lawyer, businessman, and music lover Jim Jard; designer and F.E.E.D. TX Restaurant Group restaurateur Carl Eaves; and Jack Massing, who is one half of The Art Guys' creative genius.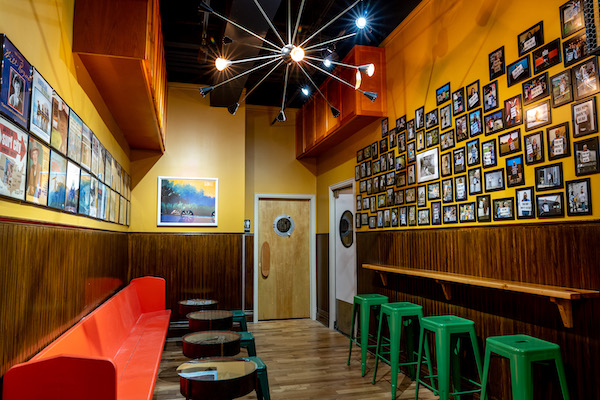 "This bar has been a long time coming. There's certainly a lot of thought and passion behind it," says Eaves. "Meanwhile, it's meant to be an uber casual, laid-back respite from the hectic Houstonian life. Our hope is that people walk in, let out a sigh of relief and bask in the intimate environment."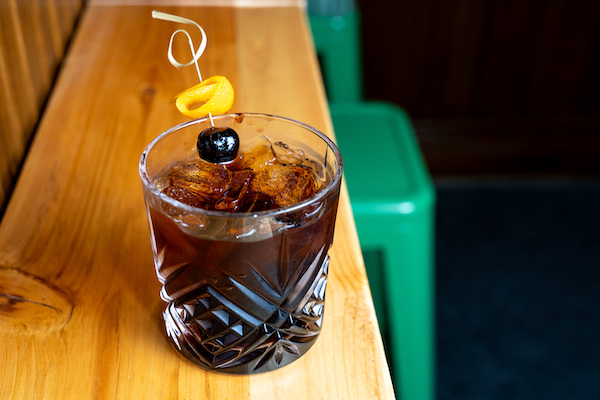 The beverage menu is a mix of classic and modern cocktails. Standouts include:
Cowboy Pura Vida Almeda Margarita — Pura Vida tequila, triple sec, Big Red, frozen, and served icy cold
Campfire Coffee — mezcal, coffee liquor, chocolate bitters
Baja Beach Beer — Vodka, orange juice, lime, ginger beer, jalapeño topped with surfer light beer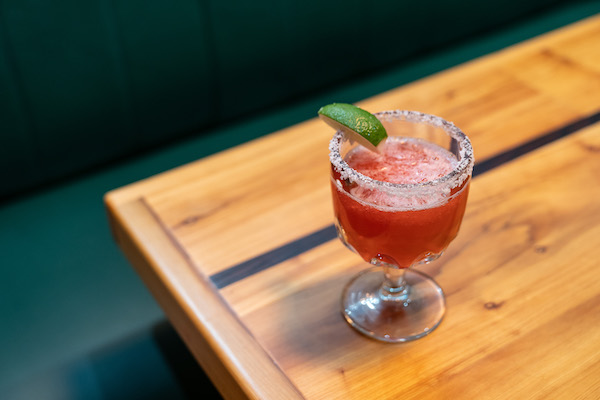 There is also an enviable selection of mezcal, tequila, and whiskey. On the food side, simple comfort food reigns. Chef and friend of the group Lance Fegen consulted on the small menu featuring Texas chili, a cheeseburger, and nachos.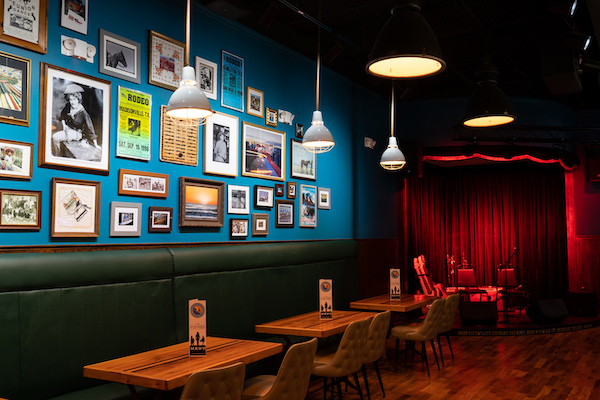 Live music plays a central role at the bar, anchored on the Cowboy Surfer Small Stage. The stage is small but mighty, boasting a state-of-the-art sound and lighting system, plus mics and top-of-the-line guitars plugged in and ready to play.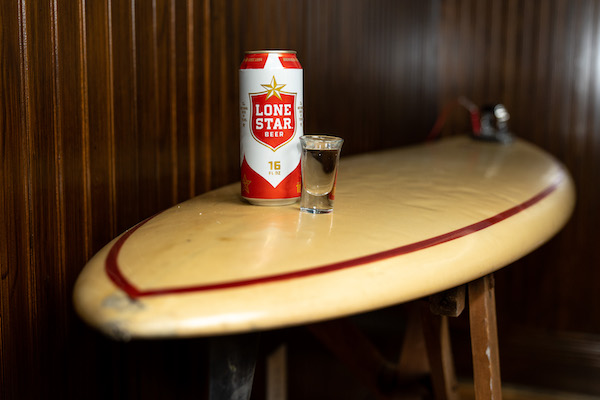 "Our desire is to promote high quality musicians we believe in. No matter how small or large the name of the act, we want people to know that the musicians at Cowboy Surfer are hand-picked for their talent. The public can always expect a good show. Musicians, on the other hand, can expect an environment designed for them to be appreciated," says Jard.
The bar's artistic angle doesn't end with live music; as with any establishment bearing Eaves' name, Cowboy Surfer's design comes from a thorough plan. A bright blue hue reminiscent of the ocean splashes across the bar's main room, while a subdued yellow color nodding to the desert covers most of the rest of the space, including an intimate dart room dubbed The Green Room. Throughout, artwork relevant to both cowboy and surfer communities—curated by Massing—are on display. This art includes memorabilia, posters, prints, photography, vinyl records, and personal items from famous creators like Kenny Braun, Geoff Winningham, Jack Thompson, Mark Seliger, and Carlos Hernandez. Musician and actor Ryan Bingham and master surfboard creator Henry Fry are just some of the contributors of the items found at Cowboy Surfer.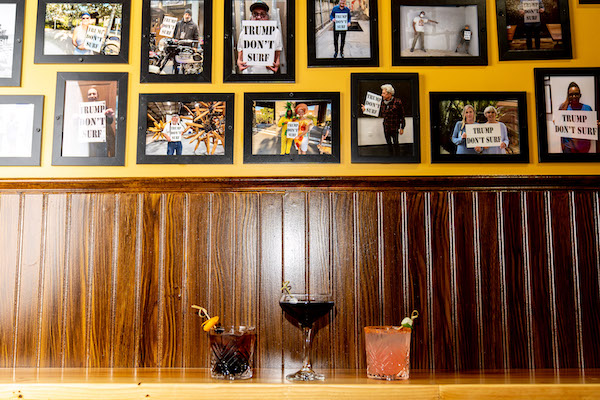 "Visitors to the bar will enjoy the wide range of quality art and memorabilia that visually tie together the worlds of hard work and freedom while listening to the music that captures the spirit of Texas and the west," says Massing.
With the pandemic in full force in Texas and beyond, the Cowboy Surfer team is taking many precautions to ensure that its opening phase is as safe as possible. While current state mandates allow for bars to be open at 75% capacity, Cowboy Surfer caps its capacity at 50% or 50 people at a time. All team members will be fully masked and continually cleaning and sanitizing common surfaces. Most notably, plans for weekly live music shows are on pause.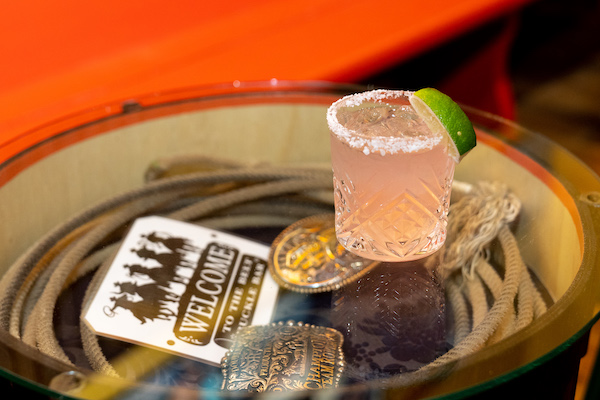 Cowboy Surfer is open for happy hour Monday to Friday from 4 p.m. to 7 p.m. Enjoy the following fabulous specials.
$1 off wells, margaritas, draft beer
$7 house red and white wine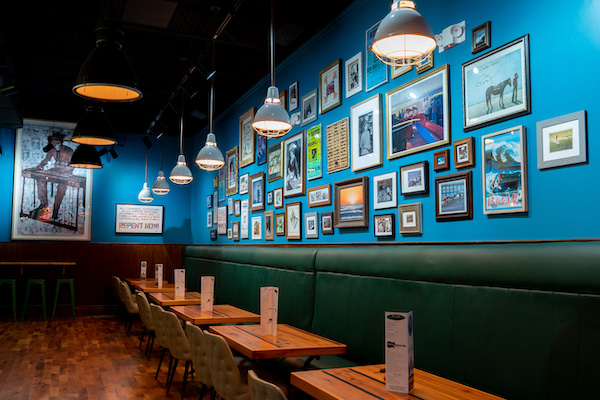 Super Football Sunday
Through February 7, Cowboy Surfer opens at 11 a.m. on Sundays for Houstonians' NFL game-watching pleasure! Guests can sit back and enjoy the games on an 80-inch projector and two TVs at the cozy bar while enjoying the following all-day specials.
$4 Domestic Beer, Bloody Marys, Mimosas, Frozen Margaritas, Wells
$6.50 Hot Dog and Beer Combo
High-Resolution Photos by Carla Gomez